Welcome to our site for resources on Mine Haul Road Design.  You will find an extensive array of Articles, Papers, Reports and Software.
Well designed and maintained haul roads are the key to minimizing truck haulage on-road hazards and costs, as well as increasing productivity.  However, practically designing and managing a haul road for optimal performance is often difficult to achieve.  Poorly designed and built roads exhibit high rolling resistance – a 1% increase in road rolling resistance can typically reduce speed on ramp by as much as 10% – and on the flat by up to 26%.
In the current economic climate, investment and operating decisions come under scrutiny.  In the long run, this scrutiny returns improved efficiencies and leaner, healthier operations.  The focus of this evolving evaluation process often falls on haulage operations – simply by virtue of their contribution to overall cost of operations – often in excess of 50% of total costs for deep open-pit mines.  Whilst the end result  – improved efficiency and reduced cost per ton hauled – is not in itself problematic, it is the route, or process followed to achieve these savings that needs to be carefully managed.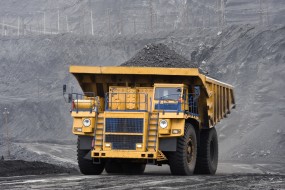 The South African design method represents the state of the art in haul truck pavement design. This paper outlines the South African design method:
Thompson, R.J. and Visser, A.T. (1999). Designing and Managing Unpaved Opencast Mine Haul Roads for Optimum Performance. SME Annual Meeting March 1-3, 1999, Denver, Colorado.
Download here.
New Book: Mining Haul Roads: Theory and Practice
Mining Haul Roads: Theory and Practice
1st Edition
Roger Thompson, Rodrigo Peroni, Alex T. Visser
CRC Press
Published December 11, 2018
Reference – 294 Pages
ISBN 9781138589629
CAT# K386669
CIRCLY 7.0
fully automates this approach.
See
these pages
for an overview of the
CIRCLY 7.0 Haul Road Pavement Design Feature
.
Other publications by Dr Roger Thompson (Western Australia School of Mines)
GSFM – An Integrated Approach to Mine Haul Road Design (2011)
An 84 slide presentation – download here.
Guidelines for Mine Haul Road Design (Tannant and Regensburg, 2001)
This publication covers broader aspects of Haul Road Design than the South African method. It endorses the South African method.
Summary: http://www.smartmines.com/mhroad/guidelines.pdf
The full document is about 100 pages.
For further information or to purchase a copy of the Guidelines contact:
Dwayne D Tannant, Ph.D., P.Eng. School of Mining & Petroleum Engineering Department of Civil & Environmental Engineering University of Alberta Edmonton, Alberta CANADA T6G 2W2
tel: (780) 492-3379
fax: (780) 492-0249
email: dtannant@ualberta.ca
The cost including shipping is:
$150 CDN for shipments within Canada
$150 US for shipments internationally
Caterpillar Haul Road Design and Management
A Presentation by Pete Holman (2006)
Cat Global mining have also published a good presentation by Pete Holman titled Caterpillar Haul Road Design and Management, while in part being a bit of a marketing plug for the exclusive Caterpillar road monitoring tool called "Road Analysis Control" or RAC, presentation contains good detail with respect to road design parameters, tyre management, grade impacts on load transfer for both cross fall and ramp gradients and dust control techniques.
Download here.